Shop Closure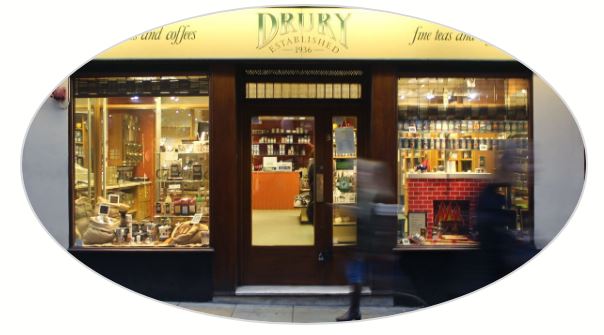 4th September 2020
Dear Customers,
It is with a very heavy heart that we have taken the difficult decision to permanently close our retail shop in Covent Garden.
Since our business was founded by my grandfather and his two brothers in 1936, Drury have always had a retail presence in central London and so we do not take this decision lightly at all.
However, it is a fact of life that with the changing shopping habits of UK consumers and the devastating impact of the Covid 19 pandemic on the retail industry, the future of specialist shops like ours is uncertain and difficult.
Many of you will know that Drury are a key supplier of tea and coffee to the UK hospitality industry, and we must now focus our efforts and resources on this part of our business together with our online shop, in order to continue providing the very best products to both our retail and commercial customers.
We have already moved our retail division across to our head office in the Royal Arsenal, and we are continuing to make every effort to improve and enhance our online shop to make ordering easier and more efficient. However, we do not intend to be an internet-only business. Drury always has, and will continue to be, a family business and this is reflected in the attitude and integrity of all my colleagues, particularly in the retail division. I know that many of you have spoken to Karen, our shop manager, on the telephone over the past few months and it has been particularly gratifying for me to hear the warmth and engagement in her voice (we occupy adjacent offices) as she greets old customers on the phone.
We are working hard on savings in other areas of the business with the hope that all of Karen's colleagues will have a place with us as we grow our retail business online. With the fantastic support we've had from customers both old and new since March 2020 this is looking more like a probable outcome, rather than a vain wish.
I know from the messages of support and concern we've received during this terrible pandemic that many of you will be very upset to read these words, but please believe me when I say that it is by far the hardest decision that I've had to make in my 32 year career with Drury Tea & Coffee. However, above everything else it is my duty to ensure that our 84 year old family business carries on, and continues to supply Britain with the very best tea and coffee it can. In order to do that we must take this next step, however difficult it is.
Should any of you wish to contact me regarding this please do not hesitate to email me on marco@drurycoffee.com or write to me at:
The Drury Tea & Coffee Company Ltd,
46/47, iO Centre, Armstrong Road,
Royal Arsenal Riverside,
London, SE18 6AT.

With many thanks for your continued support,
Marco Olmi
Managing Director