Drury Freshly Roasted Coffee
Drury Freshly Roasted Coffee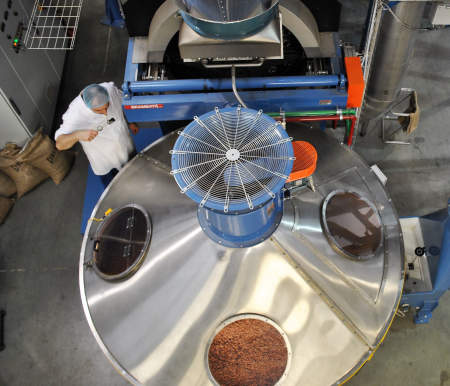 Although Drury was originally a tea company at its inception in 1936, we started supplying freshly roasted coffee in 1939 and now we draw on this 80+ years of experience with our varied portfolio of classic espresso blends, fine quality after dinner coffees and morning pick-me-ups.
We roast coffee daily at our headquarters and factory in London's historic Royal Arsenal, ensuring our customers have the freshest coffee possible.
Roasting
In 2015, when we moved to our current location, we invested 1.3 million euros in our Brambati BR3000 roaster. Drury's main sales market is the hospitality industry (restaurants, pubs, coffee shops and hotels) of London and the wider UK, and we need the 2 million kilos per year capacity of our Brambati to serve this marketplace. Our large turnover within this industry brings benefits to our retail customers too – we always sell freshly roasted coffee and you benefit from the economies of scale that allow us to sell fabulous quality coffee at great prices. We also stock a huge range of coffees – at any one time we have around 50 varieties of blends, originals and single estates in stock.
You will notice as you browse our range of coffees that we have designated each with a roast number, as follows:
1 - Light
2 - Light-medium
3 - Medium
4 - Full-medium
5 - Dark
6 - High/continental
Generally this is an indication of strength, the higher the roast the stronger, more bitter-sweet the result. However, the other factor that influences the strength of the coffee is the origin and in the case of our blends, proportions of different origin coffees. For that reason we also apply a strength guide to our coffees from 1 (mild) to 6 (very strong).
Packing and Grinding
With one exception (see below) EVERY pack of Drury coffee sold via this website is prepared to order. We weigh, grind (if required) and pack your coffee in our heat-sealed foil bags which are equipped with a one-way valve that allows the freshly roasted coffee to release its wonderful-smelling aromas without letting any oxygen in, ensuring your coffee stays fresher for longer.
We can supply our coffee in the following grinds, in ascending particle size:
Filter Fine - For all paper filters/drip coffee.
Espresso - For electric and lever espresso machines.*.
Moka Express - For all stove-top espresso brewers.
Medium - For permanent filters and percolators.
Cafetiere - For French Press or plunger coffee makers.
Whole Beans - For grinding at home
* We calibrate our espresso grind using commercial espresso equipment to give an average across ALL machines and cannot grind specifically for different models. If your machine is particularly sensitive to variation in grind we recommend grinding at home.
A note on Aeropress coffee makers: one of the Aeropress's great strengths is its flexibility in brewing - dose weight, grind and extracting pressure all have a part to play in this. For that reason one can select any grind from espresso to cafetiere for use in the Aeropress, depending on personal preference. For those new to this form of brewing we would recommend starting off with a medium ground coffee and taking it from there.
We pack in four sizes, as follows:
125g – this pack size is only available for our Tasting Selections (hyperlink?). All grinds available, packed to order.
250g – Supplied in a re-sealable foil valve bag. No quantity discounts available. All coffees and grinds available, packed to order.
500g – Supplied in a foil valve bag. Offers slightly better value for money than our 250g bag, and also has quantity discounts available. All coffees and grinds available, packed to order.
1 kilo – Supplied in a foil valve bag. Our best value range of commercially available espresso blend beans, supplied directly from our hospitality stock. Has quantity discounts available. Commercial espresso range only and only available in beans.
Delivery
We aim to deliver your freshly packed order as quickly as possible. For addresses within the M25 we generally deliver using our own fleet of vans, for other areas we deliver via DHL. We do not operate at weekends or Bank Holidays. Our minimum order value is £10.00, for which there is a delivery charge of £4.95. Orders over £35.00 are delivered free and we also operate a "Click and Collect" service from our Royal Arsenal headquarters that is free of charge.