Rainforest Alliance Coffees - 500g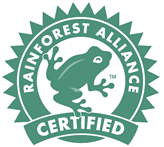 Drury has always been about quality and so that is why we chose to partner with Rainforest Alliance. Some of the best quality coffees with the backing of an organisation behind them to make a real difference in all our futures.
Our Standard pack is 500g which we offer great quantity discount on. We are now offering 250g when 500g is just too much.
YOU MAY ALSO LIKE THESE COFFEES
  YOU MAY ALSO LIKE THESE TEAS