Dark Roast ( With half the normal caffeine )
More and more these days people are looking for healthier options. Even though we know that our decaffeinated coffees are as good as our decaffeinated ones we understand that the public are wary of fully decaffeinated products. Earlier decaff. goods were just not very good and sometimes had strange flavours.
We have specifically blended this coffee to give a balanced blend using two thirds decaffeinated coffees to one third caffeinated.

A Blend of our Decaffeinated coffee and other medium/dark roast coffees.
(The decaffeinated coffees in this blend are decaffeinated using the CO2 method)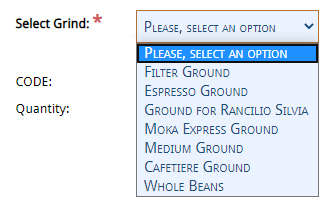 When purchasing coffee from us, it is important to select the right grind for your coffee making equipment.
You may ask why is this so complicated. The answer is that generic grinds that you get in supermarkets are not design to get the best flavour for your brew.
The various options are listed below.

---
Filter Fine
Fine Ground for domestic filter machines (perculator or drip) eg. Krups, Melitta.
---
Espresso
Perfect for all electric and lever domestic espresso machines.
---
Espresso Ground for the Rancilio Silvia
The Rancilio Silvia is an incredibly powerful machine and so needs a finer than standard grind. Please Note. That we do test our grinds but it can be out by a slight margin and this margin can have a major effect in the way the coffee pours. We usually recomend the purchase of a grinder to sit by the Silvia.
---
Moka Express
For stove top espresso makers.
---
Medium Grind
Usually used for commercial pour over machines or old style Cona brew perculators.
---
Cafetière
Also known as french press or plunger coffee makers. Coarse ground.
---
Whole Beans
For people who have their own grinders. Buying in the bean and then grinding when the coffee is needed ensures the freshest possible brew.
---
Notes on The Aeropress
The Aeropress is a unique way of making coffee and gives you the flexibility using quantity of coffee, the grind and the pressure you exert. So when selecting grind for the Aeropress it is your choice from Espresso to Cafetiere ground.

---